Indus Dolphin and Markhor are still on the IUCN Red List.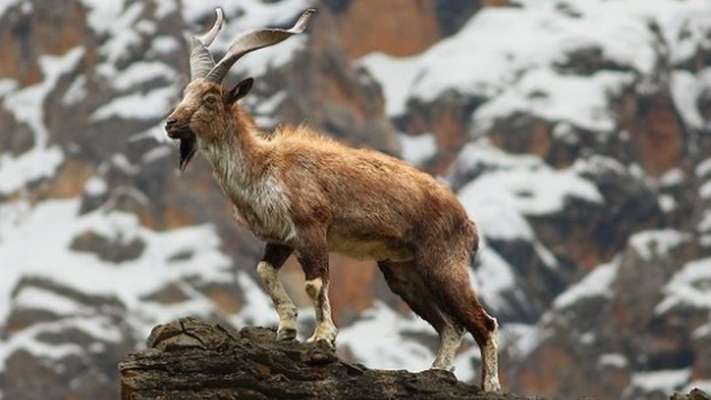 The Indus dolphin is endangered, while the entire population of Markhour has improved, after which it has been given a status quo and has been removed from the 'danger of extinction' in the 'near danger of extinction'. Has been placed
Nadeem Mir Bahar, a member of the IUCN Commission on Ecosystem Management, told the BBC that the total population of Indus dolphins in Pakistan and India is less than 5,000. Similarly, the IUCN data on the number of markhor was updated in 2015, according to which the total number of makhor in Afghanistan, India, Tajikistan, Turkmenistan, Uzbekistan and Pakistan was 5754.
Also read
Prime Minister Imran Khan's Adviser for Climate Change Amin Aslam said at a meeting of the National Assembly's standing committee yesterday that Markhour and Dolphin are currently out of danger for the Nation. However, he said that there are no reliable figures in this regard at the national level.
According to Nadeem Mir, the IUCN Red List produces reports on all plant and wildlife species.
BBC
To prepare the report, reports from local sources, government agencies and local researchers are reviewed, after which a team of international experts decides and releases statistics. These statistics generally serve as a guide for governments, researchers, and media organizations to take further steps in this regard.
According to Nadeem Merbehr, ICUN data is based on the overall situation of any wildlife.
Markhor in Pakistan
According to Jabran Haider, DFO of the Wildlife Department of Gilgit-Baltistan, who researched Markhour, the number of Markhours has increased in Pakistan in two decades. In Pakistan, the number was 2575 in 2008 and now the number is around 4500.
Pakistan currently occupies the third largest share of the population.
Pakistan has a large number of Markhor province, Khyber Pakhtunkhwa and then Gilgit Baltistan.
Referring to the increasing number of Markhours in Pakistan, he said that in order to secure the sanctuaries of Marakhar, strict action against illegal poaching, as well as to raise awareness for the protection of the locals, they have been involved in the protection of the Marakhor. Live Shared
He said that Markhor had not yet been out of danger for Pakistan in Pakistan, and if its security measures were down, it could be at risk of recurrence.
Malakor Division's Markhor campgrounds have expired. Markhor's presence has not been reported for a long time. DI Khan has also seen a drastic decline in the number of hostels and the number has decreased in recent years.
In Kashmir, there are also reports of termination of hostels. In Khyber Pakhtunkhwa and Gilgit-Baltistan, there are some campuses that need more work.
Indus dolphin in Pakistan
According to the World Wildlife Fund (WWF) Pakistan, the number of Indus dolphins is around 1800 at present.
According to Dr Massoud Ashraf, senior director of WWF Pakistan, the dolphin is still at risk because seventy-eight percent of its bases in the Indus River have been destroyed, causing barrage, pollution and illicit causes. Hunting is involved.
However, its population is increasing in Chashma, Tunsa, Gaddo and Sukkur.
According to Javed Mehar, director of Sindh Wildlife, the Indus Dolphin area has been declared safe for Gadu and Sukkur Barrage. In a survey conducted this year by Sindh Wildlife in the area, the number of dolphins was 1419, compared to 900 in the 2009 survey.
According to Javed Maher, "recent surveys have used the latest technology and we can say that the number of dolphins may be less than this."
He said that in the seventies and sixties, the Indus dolphin's orbiters started from the Indus River on the occupation. Historically, the Indus dolphin was also found in the Sutlej, Jhelum, Ravi and Chenab.
What is the IUCN Red List?
IUCN issues warnings for those at risk of extinction. This warning is called the Red List. It contains the categories of non-toxic, severe hazardous, hazardous, unsafe, low interest in natural, natural environment.
According to Jabran Haider, DFO of the Forest Department of Gilgit-Baltistan, ICUN surveys carefully before adding any animal to the red list. Sometimes the survey is conducted by the ICUN itself and sometimes receives help from surveys and research in local countries.
If the population of any species falls more than 90% and many of its origins are less secure, then it is considered a serious threat.
If less than seventy-five percent of the population is considered vulnerable, the species whose population has declined by 50 percent or more is considered unsafe.
Being extinct means complete elimination, while being exposed to the natural environment tells of when an animal has disappeared in a natural environment but somehow has some traces of it in a safe place.
He said that IUCN has been monitoring it for some time to include any species in its red book. For the first time if it was added to the red list