Posters have been posted in the disappearance of BJP MP Gautam Gambhir in Delhi. The posters say, "Have you seen them?" The last time he was seen eating jalebi in Indore. The whole of Delhi is looking for them. "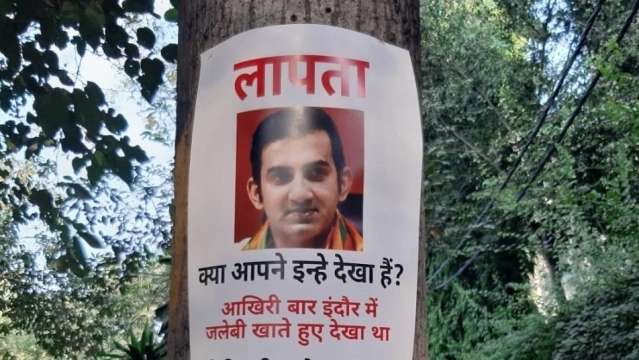 It should be noted that Gautam Gambhir did not attend the meeting of the Parliamentary Standing Committee on Urban Development on Air Pollution in Delhi on November 15, after which the Parliamentary Committee meeting was adjourned. Significantly, the 29 MPs are members of the parliamentary committee, but only 4 members of the parliament had reached the meeting. Three Commissioners of the MCD, Vice Chairman of the DDA and Joint Secretary in the Ministry of Environment, did not attend the meeting. The November 15 meeting had to be postponed due to several senior officials not attending the meeting. The meeting can now take place on November 20.
Former BJP MP from East Delhi and former cricketer Gautam Gambhir had been absent from a meeting on pollution of the Parliamentary Standing Committee on Urban Development, which has since been widely criticized. They are also targeted at people on social media. People said that Delhi is fighting pollution and Gautam Gambhir is enjoying Jalibi in Indore instead of attending an important meeting in Delhi on the issue.
In Delhi, the ruling Aam Aadmi Party also attacked Gautam Gambhir and strongly criticized him. Minister Surbhad Bhardwaj tweeted, "BJP calls for a parliamentary committee meeting to prevent pollution." The commissioners of the MCD and the DDA KVC did not go there. Member of Parliament Gautam Gambhir also teaches only on Twitter but does not attend the meeting. "